Summer Research Program: 2020-2021
1. Training interdisciplinary genre awareness through blended learning: An exploration into EAP students' online annotation of genres across disciplines
Project duration:
8 weeks
23 November to 4 December 2020
4 January to 12 February 2021
Project profile: 
COVID-19 considerations:  The project can be completed under a remote working arrangement but with occasional face to face meetings by arrangement. 
Description:
While many universities are moving towards blended learning pedagogies in the age of massification of higher education (and now being spurred on by the effects of COVID-19), there is still relatively little research of how students engage with genre education in EAP through a blended learning format (Tuomainen, 2016), while the research that has been done points to a range of challenges for its implementation despite initial favourable student perceptions (e.g. Wang et. al, 2019).
This project explores students' perceptions and use of a text annotation tool (CIRRUS - https://cirrus.austlit.edu.au/) for the annotation of a range of disciplinary genre families for key functional and language features, embedded into modules of a for-credit blended-learning EAP program for international undergraduate and graduate students from a range of disciplines at a leading Australian University.  Two modules spanning two weeks' content on the EAP course in question is devoted to the annotation of exemplars from genre families outlined in Gardner & Nesi's (2012) framework, including essays and critiques within the Arts and Humanities, case studies and problem questions within the Social Sciences, explanations and methodology recounts within the Life Sciences, and design specifications and exercises within the Physical Sciences, with these exemplars sourced from modified whole texts taken from the British Academic Written English corpus (BAWE, Alsop & Nesi, 2009).  Students annotate these texts for information specified in guided questions that relate to key metadiscoursal language forms and their associated pragmatic and textual functions, with one text from each genre annotated in small groups in class with the supervision of a tutor, and with another text completed individually online (see Figure 1).  As part of an assessment for these course, students are also expected to draw on the knowledge from this genre annotation activity as they compare the writing of two articles (of the students' own selection) from their own discipline with one article from another contrasting discipline.
This project deals with data from three sources taken over four semesters' worth of instruction, namely a) the students' annotations of the target genre features through the CIRRUS platform, b) students' end-of-module reflections of the usefulness of annotating genre features and of the value of understanding interdisciplinary academic writing practices (see Figure 2), and c) students' longer reflections on interdisciplinary genre differences arising from their assessments.  The project aims to make recommendations for further innovations in digital blended genre awareness-raising activities, particularly covering non-essay genres found within the life/physical sciences and mathematics. 

Figure 1: Student annotations of an exemplar from the linguistics discipline in CIRRUS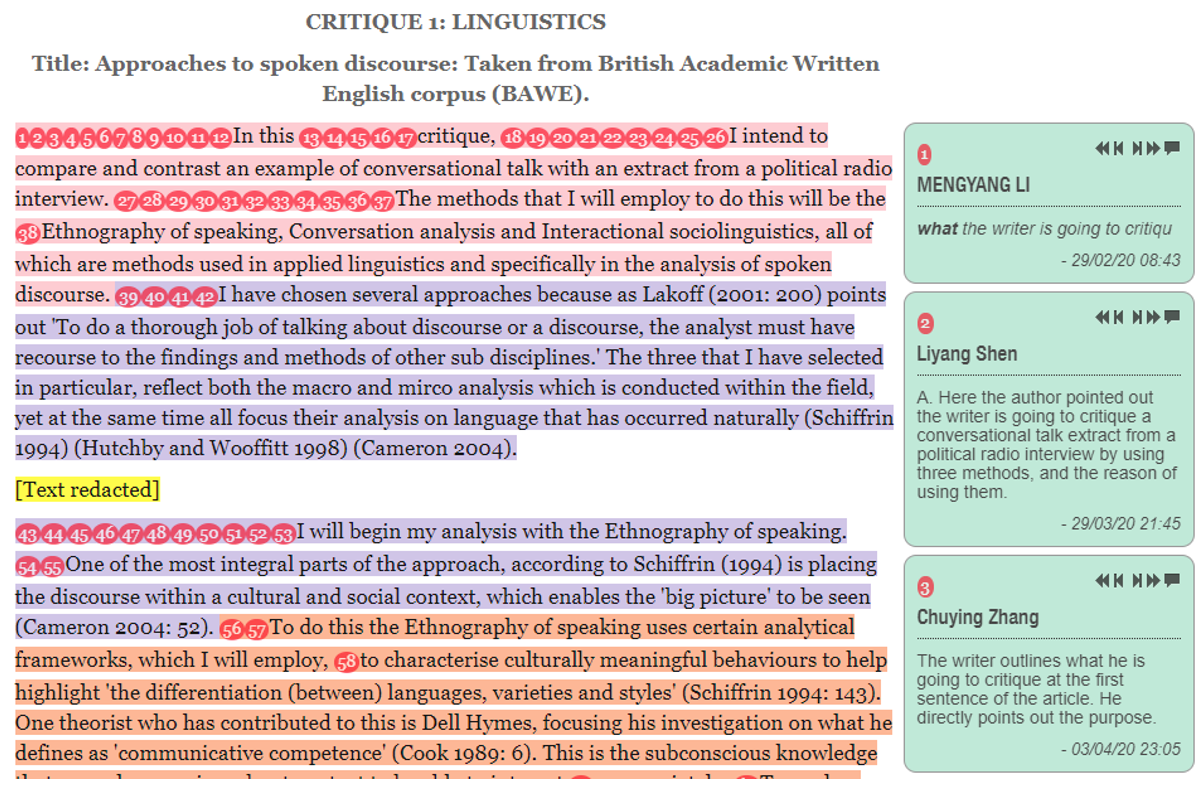 Figure 2: Students' post-module reflections on the genre annotation process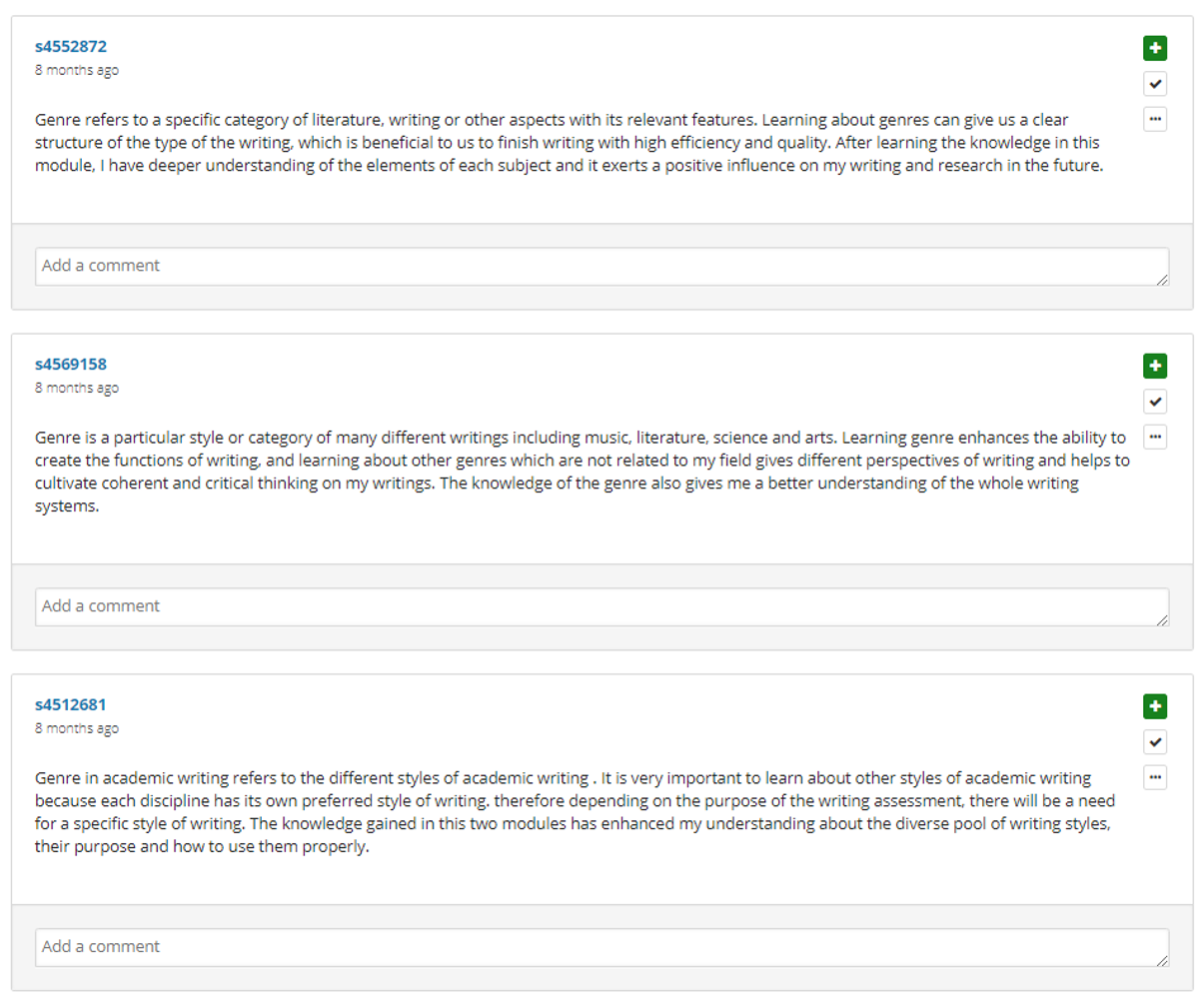 Number of hours per week: 
30 hours per week
Expected outcomes and deliverables:
Scholars may gain skills in data analysis of qualitative data using NVIVO as well as quantitative natural language processing approaches such as sentiment analysis.  A co-authored paper for submission to Journal of English for Academic Purposes will be generated as a result of the research, as well as a talk at the SLC's applied linguistics seminar series or L2 Studies Cluster seminar series. 
Suitable for:
The project is open to students with background in applied linguistics, and/or who have a background in textual data analysis and data visualisation techniques.  It would help enormously if the student has previously taken the courses WRIT1001/WRIT6001 academic writing for international students.
Number of participants required: 
1
Primary Supervisor 
Dr. Peter Crosthwaite
Further info: 
Please contact Dr Peter Crosthwaite via email. Please also contact Dr Crosthwaite to discuss the project and your background prior to submitting an application