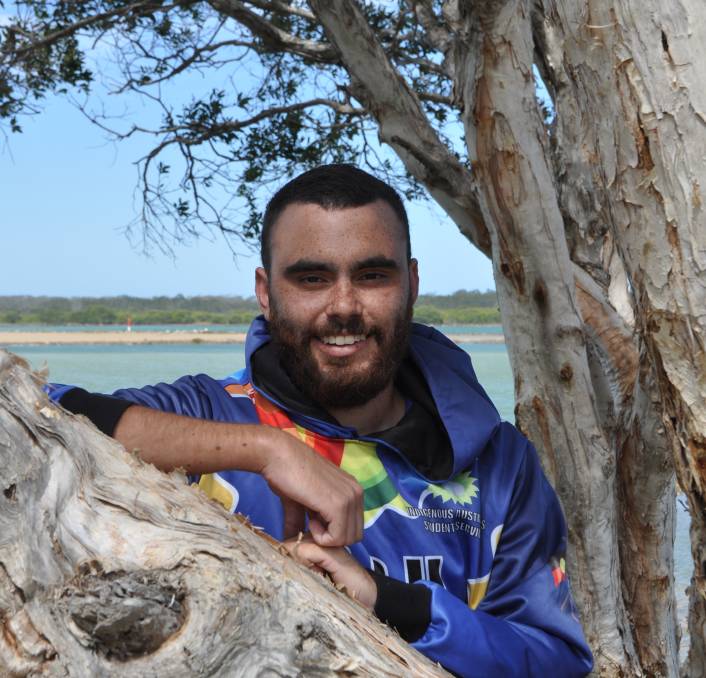 The University of Queensland (UQ) has announced its inaugural recipient of their Indigenous Languages Scholarship.
Congratulations to Dylan Berger – a proud Gumbaynggirr, Dhanggati, Yuin, and Birpai man who has spent the majority of his life in southern Gumbaynggirr Country.
Dylan will receive $20,000 to support his PhD thesis which focuses on exploring Gumbaynggirr community and language.
Since graduating from Bellingen High School in 2013, Dylan has spent the last eight years working periodically with local high schools, council bodies, community organisations, and Southern Cross University (SCU).
"As a Gumbaynggirr representative of the Bellinger Valley, a portion of my work has included speaking, sharing, and continually learning Gumbaynggirr language in group environments," Dylan said.
"This experience has positioned me in both teacher and student roles alongside local high school students, teachers, community members, and senior Gumbaynggirr language speakers."
Dylan has found that his most impactful work has been focused on delivering cultural literacy training to local teachers and educational support staff as a member of the 3rd Space Mob Aboriginal and Torres Strait Islander Corporation cultural awareness team.
Coinciding with his community work and progressive relationship with Gumbaynggirr language, Dylan has completed a Bachelor of Indigenous Knowledge (Honours) through SCU's Gnibi College of Indigenous Australian Peoples and will now begin his PhD thesis at UQ.
"I hope to build on and further explore the methodological framework that is informed by Indigenous Knowledge philosophy by pursuing a potential PhD thesis that focuses on Gumbaynggirr language."
"My preliminary PhD goal is to implement an insider research design that is akin to work-based research models to try and explore the relationship that exists between Gumbaynggirr community members as human agents belonging to Country, and Gumbaynggirr language as a living form of Indigenous Knowledge containing its own form of agency within Country," he said.
In doing so, Dylan intends to identify how the reciprocal nature of such relationships can generate positive benefits for Gumbaynggirr community members and Gumbaynggirr language.
This includes improving connections to Country, culture, and community, and improving the capacity to revitalise, conserve, and promote Gumbaynggirr language as guided by Gumbaynggirr ontology, epistemology, and axiology.
"Receiving the Indigenous Languages Scholarship not only alleviates some of the financial pressure that may arise in the foreseeable future, it also provides financial aid to support opportunities that may improve the overall quality of my PhD thesis."
In light of being offered an opportunity to pursue a PhD with UQ and receiving the scholarship, Dylan feels excited and optimistic about the journey ahead.
"I am hoping this opportunity will generate positive, beneficial outcomes for Gumbaynggirr Country, culture, and community.
"By inspiring other First Nations' academics to pursue their own research pathways they will benefit both themselves and their communities in their own way," Dylan said.
Approaching this PhD journey with some foresight, Dylan believes the completion of this PhD thesis would establish an advantageous platform to support the pursuit of an academic career focusing on applied linguistics from an Indigenous Knowledge viewpoint.