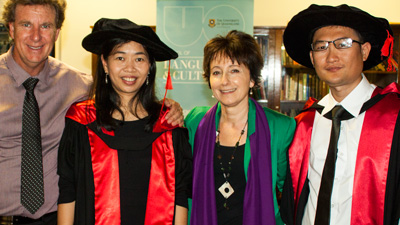 4 honours students and 5 PhD candidates graduated from our school this week.
Before the official ceremonies were conducted at the UQ Centre, there was a small informal gathering at our school to congratulate our honours and PhD graduands and wish them well.
Those who completed their PhDs were Dr Amir Ahmadi, Dr Ana Duffy, Dr Kim Hajek, Dr The Duong Nguyen and Dr Thi Bich Ngoc Nguyen.
The honours graduands were Emily Miller, Bronte Ward, Rebecca Hausler and Katja Manne.
Amongst our graduating cohort were University Medallists Larissa Fedunik-Hofman (German), Thomas Ennever (Linguistics) and Jayden Macklin-Cordes (Linguistics).
We wish all our graduates the very best in their futures.​