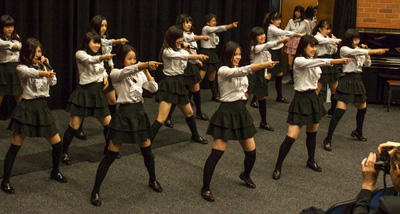 Students from three Jikei Gakuen Japanese music and dance schools performed on Wednesday at The Women's College at UQ.
The event marked the first in a series of events that will be held this year to celebrate 50 years of Japanese language teaching at UQ.
The students performed in a variety of song and dance styles including classical, pop, and beatboxing.
The College Playhouse was nearly full and the audience were very appreciative of the students' performances.
A graduate of Jikei Gakuen, Momo Hamada, was on hand to give an inspirational talk to the students after the show.
Momo is a solo performer who also teaches piano in Brisbane.
It was the first public performance for the students, who are from Osaka School of Music, Fukuoka School of Music and Dance, and Tokyo School of Music and Dance.
This is also the first time most of the students have been out of Japan.
The students are currently studying at the Institute of Continuing and TESOL Education (ICTE).​