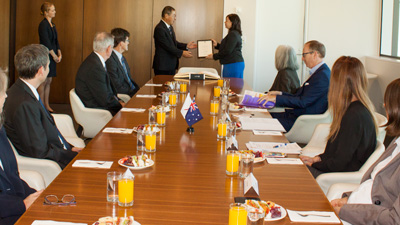 The School of Languages and Cultures welcomed new Adjunct Professor and Consul-General of Japan in Brisbane, Mr Hidehiro Hosaka in an official ceremony on Friday.
Mr Hosaka accepted his nomination to Adjunct Professor earlier this year, and was invited to the university for an official appointment ceremony .
Senior members of the university Executive, as well as representatives from the Faculty of Humanities and Social Sciences, Global Engagement and The School of Languages and Cultures were at the ceremony to welcome Mr Hosaka.
In his acceptance speech, Mr Hosaka said that he hoped that student exchange ties between Japanese universities and the University of Queensland would continue to strengthen.
Adjunct Professor Hosaka began as Consul-General at the Consulate of Japan in Brisbane in November 2015.
Mr Hosaka is also an Honorary Advisor on the board of the Japan Chamber of Commerce and Industry, Brisbane.
The ceremony coincided with the launch last week of the 50th Anniversary of Japanese at UQ celebrations.
The celebrations began on Wednesday with a performance by Japanese Music and Dance School students at the Women's College Playhouse, hosted by ICTE.