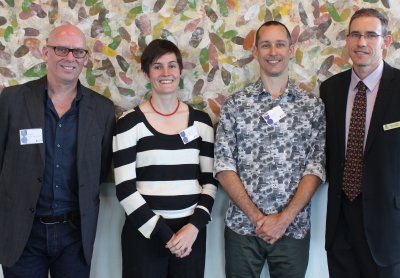 Four researchers have received top honours in this year's Faculty of Humanities and Social Sciences Research Awards.
At an event on Tuesday Dr Ian Hardy from the School of Education and Professor Chris Reus-Smit from theSchool of Political Science and International Studieseach received a Research Excellence Award.
Dr Hardy's research focuses on the politics of educational policy and practice, with a particular emphasis upon teachers' learning.
Professor Reus-Smit is ranked among the fifty key thinkers in the field of international relations and was acknowledged for being a senior researcher with unrivalled esteem in Australia.  
Dr Felicity Meakins from the School of Languages and Cultures received the Research Engagement Award for her work with Indigenous communities on ensuring the preservation of their languages after current elders have passed away.
The award for Early Career Research went to Dr Jason Ferris from the Institute of Social Science Research. Dr Ferris leads the Drug and Alcohol Policy Research program and works jointly with the Research Methods and Social Statistics and the Policing and Security Program.
Professor Reus-Smit said he was delighted to receive the Excellence award.
"The Faculty has so many outstanding researchers, across a wide variety of disciplines, and to have one's research recognised in such a context is truly gratifying," he said.
"Research is one of our core activities, but it is also something that commonly we work away at on our own or in small groups, and the outcomes are often deferred and quietly ticked off.
"The great thing about these awards, as well as research week as a whole, is that we publicly celebrate this core activity, and we celebrate it as a community."
Dr Felicity Meakins said Research Week was a great opportunity to acknowledge the community engagement undertaken by more and more academics.
 "Most of our job is in teaching and research, but many of us are striving to ensure that our work resonates with the communities that we work with and the general public," Dr Meakins said.
"Research week is a great opportunity to recognise this work where it happens."
Professor Tim Dunne, Executive Dean of the Faculty of Humanities and Social Sciences, said the awards were an important way of recognising the outstanding contribution research makes within the Faculty.
"Colleagues receiving these awards show us how much our research matters.
"We are actively involved in interpreting the lessons of history, mapping the causes of conflicts and their mitigation, breaking down communication barriers, and connecting what we discover with advances in science and medicine such that together we can advance the goal of achieving sustainable and creative human communities in the future," he said.