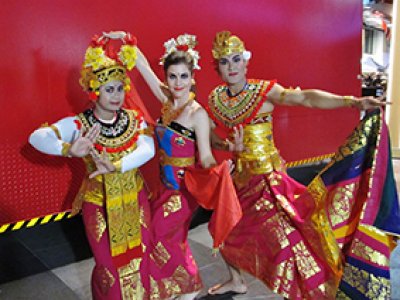 Network Ten's Totally Wild team took over the Great Court recently to film the University's Balinese Dance group.
The group is run by Jane Ahlsrand who is currently studying her PhD in the School of Languages and Cultures. Jane started offering Balinese dance lessons as part of the Indonesian Cultural exchange group, Pojok Indonesia, run by Dr Annie Pohlman in the School.
The team were contacted by the Totally Wild for a special program aimed at introducing traditional dances to younger viewers.
"Balinese dance is extraordinarily beautiful but difficult to master. I love teaching it because I can see my students gradually improve and grow in confidence each week," said Jane.
"Every detail of the dance must be precise, from the movement of the eyes to the position of the toes! It remains a never-ending quest for perfection."
This the second time Jane has been approached to take part in a TV program. Last year she was the subject of a documentary for Indonesian television.
"Indonesians were intrigued that an Australian would want to learn their traditional dance and take it so seriously," she said.
The Balinese dance group get an opportunity to perform at least once a month, just recently they danced at the Brisbane City Council Valley Multicultural Festival and Jane performed a solo for the Balinese Hindu ceremony of Kuningan.
The dancers for the filming were I Gede Eka Riadi (dancer from the Education Attache, Indonesian Embassy in Canberra), Atikah Rizky Lestari, Geigy Sartika, Estu Purwanto and Arathy Thirukumar.