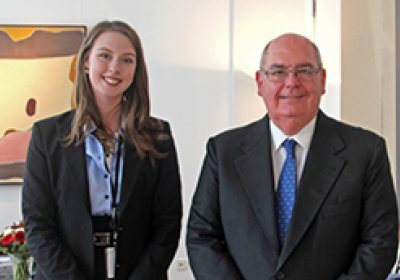 His Excellency David Ritchie A.O., Ambassador to Germany, Switzerland and Liechtenstein is a BA alumnus from The University of Queensland. He has been chatting to Allison McClelland, herself an alumna of UQ, Class of 2015 - BA/LLB (Hons).
Allison was an intern in the Political and Economic Section, Australian Embassy in Berlin earlier this year.
'Ambassador David Ritchie has witnessed history, serving within embassies in East, West and reunified Germany.
From his office on Wallstrasse, we are, as he reminds me, sitting in East Berlin.
Reflecting on his Ambassadorship so far, Mr Ritchie underscores just what an incredible time it is for Germany,
"It's 25 years since the wall came down, 25 years since reunification, 100 years since the start of WWI and 70 years since the end of WWII," he said.
In today's Germany, Mr Ritchie describes history as "ever present" and I suspect for someone who lived it, it is even more so.
"Berlin in 2015 is a completely different place, which has offered me the opportunity to discover many areas previously off limits to Western diplomats," he said.
Following "four terrific years" at UQ, during which he was "confronted with fantastic German literature," Mr Ritchie's first DFAT posting was to a divided Germany during the height of the cold war.
He describes his experience in West Germany as "incredibly exciting" and full of "realities and ironies" such as discovering that knowledge of Goethe was of no assistance in ordering an orange juice!
Mr Ritchie later served in East Berlin and he remembers it as a "shocking place" for a Western diplomat.
 "The surveillance was constant, all our local staff were Stasi or Stasi informants."
He describes the start of revolt in Eastern Europe as an "incredible time" to be in the GDR, recounting tales of meetings with dissidents in the back pews of churches and crossing back and forth between East and West Berlin. 
In recent years Mr Ritchie has seen life in the diplomatic service rapidly evolve with the information revolution and growing recognition of the interdependence of foreign policy and trade.
After 40 years he still argues that it remains one of the Government's most effective tools for pursuing its global interests.
Mr Ritchie encourages those with an interest in the field to apply for DFAT.
"It's an opportunity to see and understand the world, a world, which is infinitely more complicated than you read in the papers!"
Ambassador Ritchie holds a BA (Hons), in German language and literature.  He has served as Ambassador to Italy (2010 – 2013) and Indonesia (2002 – 2005), held the position of Deputy Secretary at DFAT since 2001 and was Senior Adviser, International Relations, in the Prime Minister's Office (1999 – 2001).  Ritchie also served in the embassy in East Berlin (1981 – 1983) and the former West German capital of Bonn (1975 – 1978).'
Allison McClelland, Intern, Political and Economic Section,
 Australian Embassy in Berlin 01 – 02/2015
BA/LLB (Hons) Class of 2015.