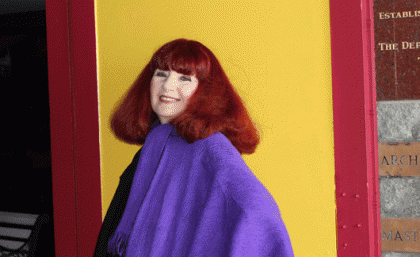 A University of Queensland graduate's thesis has inspired a play destined for the theatres of Europe, with shows scheduled for London and Vienna over the next two years.
German Honours graduate Gail Wiltshire will direct a performance of excerpts from Ilse Aichinger's Novel ;Die größere Hoffnung (The Greater Hope).
Ms Wiltshire graduated in 2014 after securing a publishing deal for her unmarked thesis.  
Originally from Boonah, Ms Wiltshire has worked in the arts all her life, both as a teacher and theatre practitioner, and in 1988 bought the Twelfth Night Theatre in Bowen Hills to stop it from falling into the hands of developers.
Her academic achievements and upcoming play stemmed from an unfortunate turn of fate, after she was diagnosed with a grade four tumour which was quickly spreading to her stomach.
Ms Wiltshire said Australian doctors gave her just six months to live, so she travelled to Germany for specialist treatment.
"Each time I had an injection the doctor would say something to me in German which I didn't understand," she said.
"I got a dictionary and discovered he was saying 'very pleasant' so I started to look up every word for dreadful and gruesome so I could respond next time."
The doctor suggested Ms Wiltshire learn German so she could share her story with other patients and explain what was keeping her alive.
The treatment was a success and, upon returning to Australia, Ms Wiltshire continued her German studies at UQ where she had completed a Bachelor of Arts, a Bachelor of Education and a Master of Arts in the late 1960s and '70s.
"It saved my life: I found myself with a wonderful group of people, so dynamic and happy, and I thought, this is for me," she said.
It was during this time that Ms Wiltshire was introduced to the work of Austrian writer Ilse Aichinger by UQ School of Languages and Culture academic Associate Professor Alan Corkhill.
"I had already fallen in love with the German language, now I fell in love with Aichinger's writing," Ms Wiltshire said.
After reading her novel The Greater Hope, Ms Wiltshire decided that was to be her thesis topic.
"I wrote my thesis as though I would never write again — it became a passion," she said.
"The day I handed it in, I felt drained but I also thought who will ever know about this wonderful writer?
"I went through all the reference books I had used and one publisher's name came up four times, so I took a chance and emailed the company."
Within a week, Konigshausen & Neumann — one of the leading scholastic publishers in Germany — replied with an offer to publish.
"I was first introduced to Aichinger's short stories and thought she was magnificent. She is a difficult writer, very multi-layered, which is maybe why she is rarely translated and little known outside of Germany and Austria," she said.
"When I look at the publication and production of my thesis I am astounded.
"It is testament to the excellent support of the School and the power of Aichinger."
Aichinger is the daughter of a Jewish mother and Christian father who lived through the Nazi occupation and saw her maternal grandmother, aunt and uncle deported on cattle trucks to the concentration camp of Minsk in 1942.
Much of her writing focused on the Nazi persecution of the Jews.
Gail Wiltshire's book, A Spatial Reading of Ilse Aichinger's Novel ;Die größere Hoffnung, is available from online stores.
For the performance Ms Wiltshire is working with actors from the Vienna Children's Theatre Company.
Media: UQ Humanities and Social Sciences, Gillian Ievers, g.ievers@uq.edu.au, +61 7 3346 1633, +61 (0) 406 510 668.