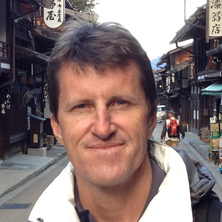 Congratulations to School of Languages and Cultures Associate Professor and Reader in Japanese Studies David Chapman for being appointed President of the Japanese Studies Association of Australia (JSAA).
Dr Chapman will work with the JSAA over a period of two years promoting study and research on Japan and advocating for the needs of Japanese Studies practitioners and students nationally.
"A professional association like the JSAA for those in Australia who teach, research and study Japan is important as Japanese remains the most widely studied language in Australian schools and universities," Dr Chapman said.
"The importance of studying Japanese is reflected in the fact that Australia has the 4th largest number of people studying Japanese as a second language in the world and the highest per capita globally.
"This appointment allows me to make a significant contribution to the JSAA mission, providing an essential position in emphasising the importance of specialisation in the field.
"I will be managing the general running of the JSAA, representing academics and postgrad students in Australia domestically and internationally, coordinating the promotion of study and research on Japan, and advocating for the needs of Japanese Studies practitioners and students in Australia," he said.
The biennial JSAA conference was hosted by the Japanese Discipline Team this year at UQ with over 150 attendees and 35 panels presentations.
The JSAA's continuing projects will be supporting language study in Australia with LCNAU (Languages and Cultures Network for Australian Universities), distributing JSAA grants and scholarships for research and study, and continuing work on the Australian Network for Teaching Advanced Japanese.