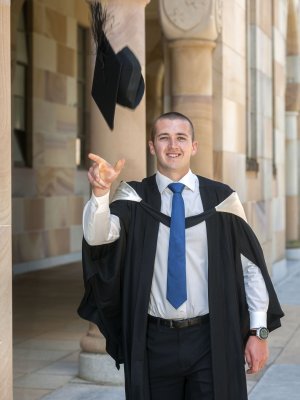 Sean Nicolson has graduated from The University of Queensland t with a glowing reference from the United Nations High Commission for Refugees (UNHCR).

Sean interned with UNHCR Jordan as part of the Syrian response on a six-month internship.

He graduates on December 17 with a Bachelor of Arts with an extended major in Peace and Conflict Studies and a minor in Spanish.
"Working for UNHCR was definitely a vertical learning curve," Sean said.
He was assigned to Community Support Projects which aims to foster positive relationships between hosting communities and refugees.
"Around 90 per cent of Syrian refugees reside in towns so, alongside highly skilled-colleagues and community leaders, I managed small-scale urban projects to boost services, foster inclusiveness and improve livelihoods that would benefit the whole community, not just the refugees," Sean said.
"Due to the distances involved, there were not as many social and cultural links between locals in the south and the Syrian refugees coming from the north.
"This meant that sometimes the cultural differences could develop into major issues, hence we worked to foster resilient cross-community links."
Sean's boss Volker Schimmel, Head of Office at UNHCR Amman, said Sean was a quick learner and took on many tasks and responsibilities early on.
"Within the first few weeks of his internship, Sean's supervisor resigned and for the remainder of the time Sean was the only person dedicated to Community Support Projects under my supervision," Mr Schimmel said.
"He excelled at this unusually high level of responsibility."
"Sean is an open-minded person with an international outlook," he said.
Sean attributes much of this success to studying at UQ.
"UQ is a big, diverse and progressive place of learning, and I had opportunities here that I could not have got anywhere else," he said.
"There are people at UQ from all over the world, many who are balancing both work and study and who feed these different experiences into the classroom."
During his time at UQ, Sean also had the opportunity to study for six months in Rio de Janeiro and, in 2012, taught English in a Tibetan monastery in India as part of the Young People Without Borders program.
Sean is now looking to the future and has his sights firmly set on more overseas experience.
"I want to work overseas in policy, project or program management, either through governments, NGOs (non governmental organisations) or international organisations," he said.
"I have applied for a graduate program in the UK and am looking for an internship in an international organisation. In short, doing interesting things in interesting places, with a bit of luck."
UQ Vice-Chancellor and President Professor Peter Høj said each student graduating from UQ was gaining a qualification from a world-class university.
"UQ is consistently well inside the world's top 100 in all major global university rankings, and two of these currently place UQ in the world's top 50," Professor Høj said.
Professor Høj said the December graduates would join UQ's 232,000-strong alumni group – including more than 12,000 PhDs – in at least 170 countries.
Prospective students can see key dates for QTAC applications and offer rounds here.  
They can also contact UQ Admissions on (07) 3365 2203 or admissionsenquiries@uq.edu.au for information.
Instagram photos hashtagged #UQmemories or #UQalumni will be added to UQ's December graduation collection.
Media: Gillian Ievers, Faculty of Humanities and Social Sciences, 07 3346 1633, g.ievers@uq.edu.au; UQ Communications, 07 3346 0561 or communications@uq.edu.au