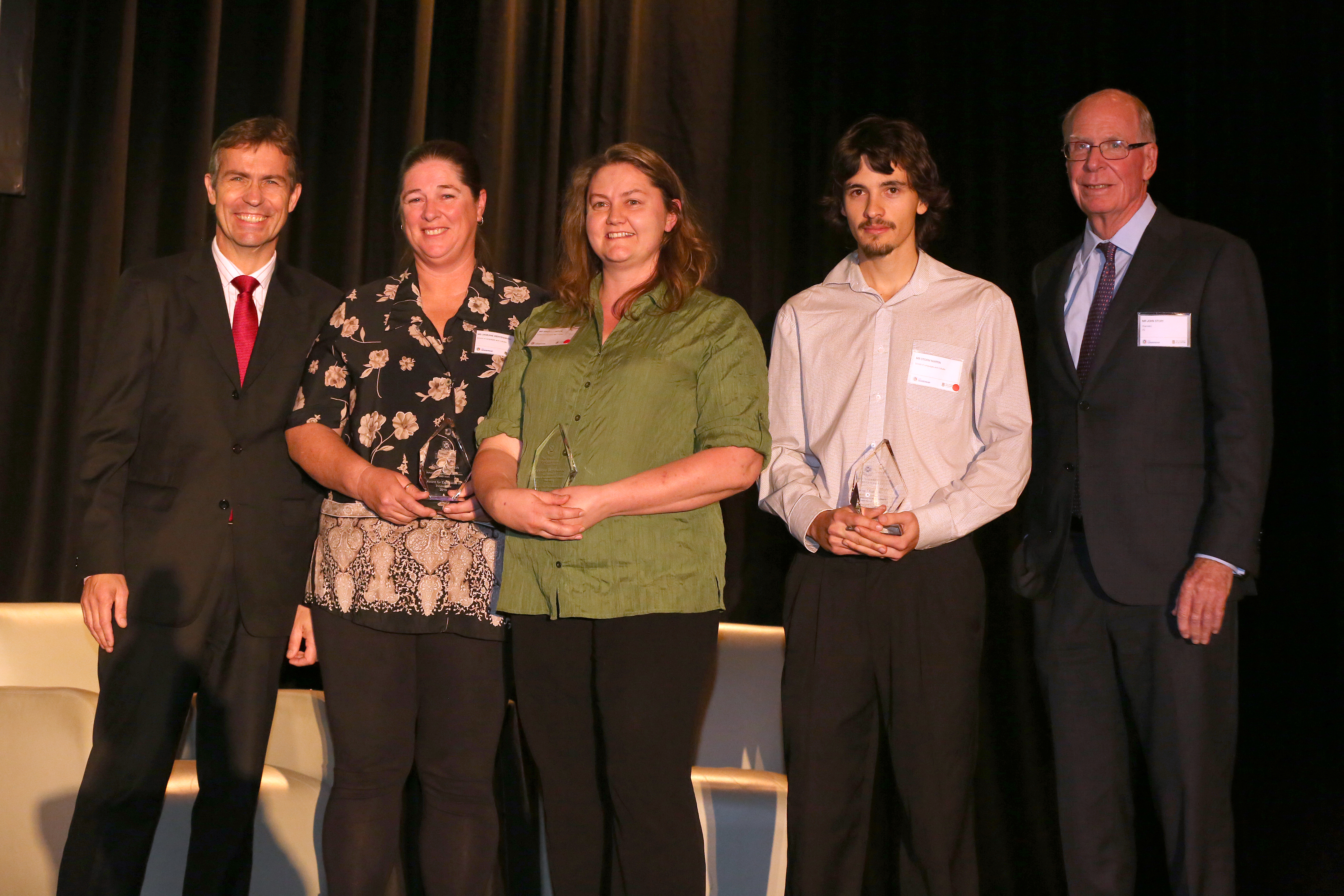 Staff who go above and beyond at The University of Queensland have been recognised for their contributions to the university's vision of excellence.
On June 3, the 2015 UQ Awards for Excellence honoured staff in the fields of leadership, service, innovation, equity and diversity; and wellness and safety.
UQ Vice-Chancellor and President Professor Peter Høj said the awards recognised and rewarded the achievements and successes of UQ's outstanding people.  
"At UQ, we take pride in our reputation for excellence in higher education, a tradition of outstanding graduates and high-quality research," Professor Høj said.
"Our impressive progress has been possible through the passionate commitment, outstanding quality and hard work of our staff.
"These awards acknowledge staff accomplishments and leadership across all levels of the organisation, regardless of position.
 "By recognising our colleagues, we are making a statement about the culture we value and aspire to achieve at UQ," he said.
Winners and nominees come from a diverse range of professional and academic areas and university locations including IT, student relations, research, Gatton farms, Moreton Bay and human resources with many teams representing great examples of cross university collaboration  
75 individual and team nominations were received for the awards, which are open to all UQ staff.
2015 RESULTS:
Further information and videos on recipients is available here.
Leadership award: Nicole Thompson and Associate Professor Diann Eley.
This award recognises and celebrates exemplary leadership which helps to create a positive, performance-based culture, and contributes to the achievements of the university. Such leadership may be demonstrated by staff at any level of the organisation.
Commendations: Paul Jensen
Service award: The EAIT IT and Infrastructure Group, the Gatton Farms team, and Jan Barton.
This award recognises and celebrates individuals and teams that have made an outstanding and significant contribution to delivering excellence in service to students, staff and/or the wider community.
Commendations: The Graduations team, School of Medicine Clinical School, Centre for Microscopy and Microanalysis, AIBN ITS, the Alumni and Community Relations Team, the Psychology Undergraduate Student Administration, UQBR-QBI, Perry Kollmorgen, Tony Arklay, Jodie De Daunton, Matthew Leighton, and Brent Ritchie.
Innovation award: The School of Languages and Cultures Management Database Team and Stephen Coombsfrom EAIT.
This award recognises and celebrates individuals or teams that have implemented innovative, effective workplace practices and initiatives, including the development of new systems that improve UQ's effectiveness and efficiency.
Commendations:  Matthew Lamb and The Moreton Bay Research Station team
Equity and Diversity award: The Career Progression for Women team.
This award recognises and celebrates outstanding effort made by individuals or teams in promoting equity and diversity within UQ and the wider community.
Wellness and Safety award: The UQ Workers' Compensation Self-Insurance Licence Renewal project team.
This award recognises and celebrates the contributions of staff who have implemented innovative and exciting ideas which contribute to the wellness and safety of people at UQ.
Commendations: Staff Support Services and Marshall Butterworth.
Media: UQ Communications, Gabrielle Briner, 07 3346 0561 or g.briner@uq.edu.au