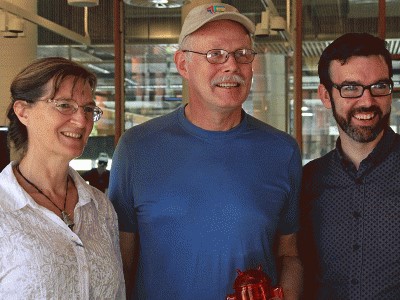 A group of staff and students from The University of Queensland recently took part in a mobile application development workshop aimed to support aspects of Australian Indigenous languages.
Starting off with intensive training on 'app' development by Google Software Engineer Dr Craig Cornelius, this four-day intensive workshop was organised and run through UQ's node of the ARC Centre of Excellence for the Dynamics of Language(CoEDL).
Dr Cornelius said the applications developed were of high quality and ranged from tools that could support researchers, to apps that could be used by the language communities themselves.
"It was impressive how quickly the students put together useful and appropriate applications in diverse areas of linguistics," he said.
"They ranged from an app to help Indigenous language learners with pronunciation of Indigenous words to an app that could assist in the recording and sharing of traditional stories organised using a family tree."
UQ's CoEDL node leader Professor Janet Wiles said workshops such as this are an important way to build bridges between scientific communities, and values the design-led approach.
"Designers provided a critical bridge between field linguists who know the communities and the linguistic challenges, and the software engineers who were learning Android Studio and building useful apps," Professor Wiles said.
Critical to the success of the workshop were sessions run in collaboration with linguists, so Dr Felicity Meakins from the School of Languages and Cultures and Dr Myf Turpin from the University of Sydney were on hand to share their experiences working with different language communities and practical insights into some of the unique challenges facing app developers in such environments.
"Technology is a great way to engage younger generations and apps will soon play an important role in the maintenance and revitalisation of languages in Indigenous communities," Dr Meakins said.
"The rapid uptake of mobile phones and tablets in many remote areas means that we now have new niches for old knowledge," she said.
An offshoot of the workshop is the establishment of a 'maker community' to bring technology innovators together with linguists.
The CoEDL maker community is open to anyone with an interest in developing applications that can support the transformation of our understanding of language.