PhD with South American travel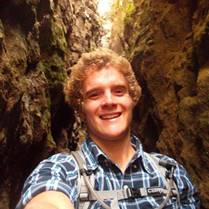 Zac took Spanish as part of his Arts degree and enjoyed the program enough to pursue further study. After graduating and taking time off to travel, Zac started a PhD in Spanish at the School of Languages. He now travels back and forth between Australia and South America to research for and write his thesis.
"I had such a great time in Spanish class, and the tutors really engaged my passion for learning. They taught me about all of the worlds Hispanic cultures, from Mexican to Chilean to Spanish, as well as the language skills that I'd need in those countries.
When I finally got to travel to South America, I could connect with the locals on a deeper level thanks to linguistic and cultural skills. And when I came back, I thought, why not take a step further and write a PhD thesis based on my experiences overseas? The degree in Spanish set me on this path of discovery and learning, one that I hope will continue for many years."
Zac has a Bachelor of Journalism and a Bachelor of Arts (Spanish) from The University of Queensland.