In Focus Nov '15 - Student and Alumni News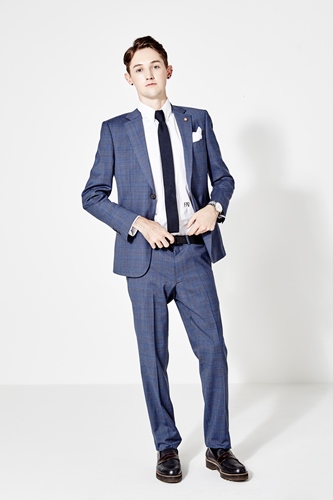 Alumni - Where are they now?
Since graduating in 2013 from, Blair Williams has been living in Korea, working at a digital marketing agency and starring on a Korean reality TV show. We catch up with Blair to hear more about life after graduating. 
What have been some of the highlights working in a digital marketing agency?
Working at the agency has been a really great opportunity for me. I have a natural interest in fashion, technology, and social media, so being able to work in an environment that combines all three is great. Two of the highlights would have to be the launching and managing of two big brand Facebook pages here in Korea (American Express, and Calvin Klein), along with the Calvin Klein Party event that I was a part of last October.
How did you get involved in the Korean reality show 'Abnormal Summit'?  
Abnormal Summit! Well I had two friends who were on the show already when it launched last July. One was an Aussie and the other a guy from Belgium. Around October last year my Australian friend left the show, so there was a vacant seat. The writers did weekly rotations of new guests to fill this seat and my Belgian friend introduced me as one of these weekly guests. The staff liked me and offered a permanent spot!
It's been a bit of whirlwind of an experience for me to be honest. Juggling full time work with weekly recordings, along with the associated interviews and what have you, it was a bit of a challenge! But I've survived, and the experience has opened many new opportunities for me, and it's one I won't forget.
Have you got any interesting stories from the show?
Interesting story... hmm, dancing several famous K-pop group dances with a fellow member (who is actually from a k-pop group himself!). As you can imagine, I looked terrible! :P
What is it like living in Korea? 
Living here isn't without its challenges but it's a place I would now call home (or second home at least). I've been here on and off since I was 18, and I started my professional career here in Seoul, so the country holds somewhat of a special place in my heart (not to sound too cliché).
The thing about Korea is, it's forever changing. It's constantly developing, constantly growing, constantly updating itself. I think as a young person looking for drive and inspiration it's a really great country to live in. I'm not sure if I get that impression from being a foreigner in the country, but yeah, just looking around at the 'Korean drive' (motivation, effort etc.), I think it's inspiring. The thing that stands out the most for me, and what often puts a lot of it in perspective, is when I remember just how far Korea has come in 50 or so years. When I think of this, I'm just amazed out how much a country or group of people can do when they share a common goal.
I also love how connected it is to the world, how close it is physically to the rest of Asia, Australia, and even the US. Plus I like the challenge of living abroad in a culture not of my own. And Korea is a country that is becoming quite open to the world, and becoming more accepting of foreigners in general. So it's a very dynamic and exciting place to live I think.
How did studying Korean at UQ help you once you graduated?
Well without having studied Korean, I don't think I would have come to Seoul in the first place, which is something I can't really imagine. Having the language education that I did, it's really given me so many opportunities in areas I wouldn't have looked. Take for example this job, and especially the TV show. Both of these are a direct result of the Korean education I received both at UQ and here in Korea. The study abroad programme as well was a big help for me, allowing me to come here to experience the language and culture first hand.
Relationship building for Language teaching graduates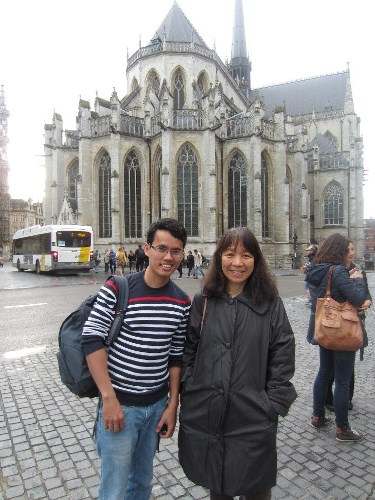 Three of our graduates of the Master in Applied Linguistics presented papers at the recent "International Conference on Task-Based Language Teaching (TBLT 2015)" in Leuven, Belgium. The biennial TBLT conference aims to investigate task-based educational ideas and put these into practice.

The following graduates presented papers at the conference.

Van Phung Dao 
ACCESS task-based interac- tion with and without the teacher's participation in different groupings of learners 
Teachers' participation in peer interaction according to groupings 

Constanza Andrea Pena Barahona
Effect of Task Complexity on the Accuracy of ESL Learners' Speaking Performance during Peer Interaction 

Kazutoshi Sato
Implementing a TBLT curriculum in a Japanese high school through collaborative action research 

Task-Based Language Teaching (TBLT) is an educational framework for the theory and practice of teaching second or foreign languages. Based on empirical research, TBLT adopts meaning-based, communicative tasks as the central unit for defining language learning needs, determining curriculum goals, designing activity in the (language) classroom, and assessing language competencies. The conference was a great opportunity for our graduates to also meet others working in the TESOL space and foster networking and collaboration. 
Photo: UQ Alumnus Van Phung Dao and Dr Noriko Iwashita