In Focus Nov '15 - Engagement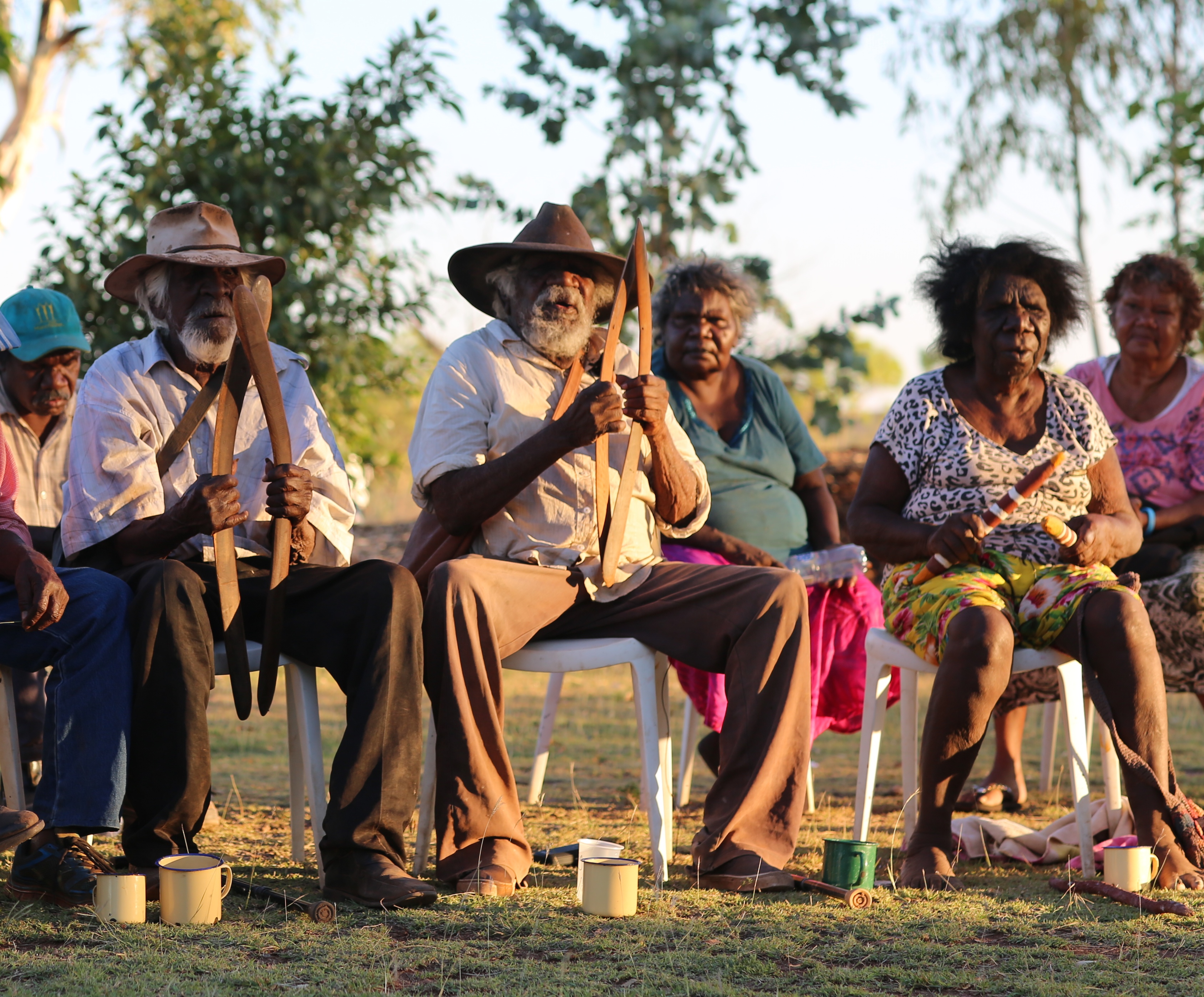 Research project bringing new life to a musical history
The musical history of the Gurindji people is being given new life in a collaborative project between academics, elders and an Aboriginal arts corporation. 
In November, Felicity Meakins (UQ) worked with Myfany Turpin (U-Syd), Ronnie Wavehill Wirrpnga, Topsy Dodd Ngarnjal and other Gurindji elders in conjunction with Karungkarni Arts to document ceremonies which were performed on Wave Hill Station from around 1940s onwards. The songs project aims to produce a book which documents public ceremony from the station, as well two DVDs for the Gurindji community, and a half-hour documentary. 
The Gurindji songs project portrays another side of life on Wave Hill Station. Although the station is best known for its harsh treatment of Aboriginal station workers, it was clearly a cross-roads of cultures in the 1940s. Station workers were members of many different Aboriginal groups and travelled between cattle stations frequently. As a result, the Gurindji learnt songs from the Mudburra who came from further east, the Bilinarra from the north, the Nyininy from the west and the Warlpiri from the south. Station life was hard but ceremony was still practised and enjoyed daily as the evening's entertainment and it was probably these moments of fun with family that made other aspects of station life more bearable.
The project team worked with old recordings from Rachel Nordlinger and Erika Charola, as well as recording new performances of these songs with professional filmmakers. The songs range from restricted women's ceremony (Jarrarta and Yawulyu) to public songs (Mintiwarra, Kamul, Laka, Juntara, Wajarra). What all of these songs have in common are descriptions of early station life. Many of the songs detail the unusual new animals and objects brought by early pastoralists, for example camels, cats, windmills and European vegetables. 
Chinese Writing Contest
High school student Jenny arrived in Australia from South Korea when she was young, and wasn't really interested in learning another langauge at the time as she was still learning English. After two years in Australia, she gained the confidence and decided to challenge herself with learning another languageand when she moved to Marsden State High School in 2013, she was given the opportunity to take up Chinese. "The best part about studying Chinese is when I can read or recognsise the characters and translate some sentences without the help of a dictionary or translator", she said.
"This is my third time participating in the Chinese writing contest. I achieved second place for the first contest in 2013. Though in 2014, I didn't achieve any places, it motivated me to work harder in this year's competition. I did it because I wanted to see where my level was at in Queensland and to push myself harder to achieve higher". Jenny was the winner of the best overall entry with the "Supreme Award" for non-native speakers in this year's competition. She was initially encouraged to take part in the competition by her teacher Ms Ding. 
When asked why she decided to encourage her students to participate Ms Ding said "Marsden State High School is located in Logan. In a lower socio-economic area, academic study levels are not as high as other schools in Queensland. However, through participating in this competition it will enhance our students' learning and build their confidence as well as encourage them to develop their social skills, morals and personal goal settings".
"Our students are in this global socialising world. Their language skills are becoming more and more important. As China becomes more powerful and important in this world, our students should grasp Chinese as quickly as possible.  Chinese also is a different language system to English, to study Chinese will help them to develop their higher order thinking and other cognitive developments", she said.
The Chinese Writing Contest is hosted by the School of Languages and Cultures and supported by the Confucius Institute at the University of Queensland. 
Work begins on the Mudburra, Jingulu, Kriol ARC DP project
In November, Felicity Meakins, Rob Pensalfini and Glenn Wightman (NT LRM Herbarium) began work with Mudburra and Jingulu community members in Elliott on the ARC DP project 'Trilingual contact in an Aboriginal Community'. The project has a number of aims which is to produce a Mudburra dictionary, and Mudburra and Jingulu ethnobiology to complement Pensalfini's Jingulu grammar and dictionary. The project is also examining the effects of contact between Mudburra and Jingulu on their respective vocabularies and grammars, as well as secondary effects from Kriol. David Osgarby and Amanda Hamilton will join Rob and Felicity on fieldwork in 2016. The project is a collaboration between UQ, NT Department of Land Resource Management, Elliott School, Newcastle Waters School and Papulu Apparr-Kari (Tennant Creek Language Centre) and also draws on older materials from linguists who have worked on Mudburra previously including Rebecca Green (NT Ed Dept), Patrick McConvell (ANU) and Mary Laughren (UQ).