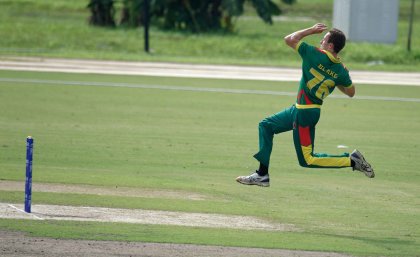 Graduand Callum Blake will leave The University of Queensland this week with a Bachelor of Arts and a professional cricket career.
After being selected for the Vanuatu national team in 2014, Mr Blake struggled to fit his sports schedule in with his studies.
He deferred two semesters to play in World Cricket League tournaments before he found he could actually juggle both.
"It was not until after the World Cricket League in Jersey in May 2016 that one of my friends told me I could qualify as an 'Elite Athlete' at UQ and adjust my assessment dates to fit around my tournaments," he said.
"Since then, I have been afforded the wonderful opportunity to continue playing cricket for my country while also completing my bachelor's degree."
Mr Blake was born and raised in Vanuatu and moved to Brisbane for high school in 2007.
He has a flair for languages, and is fluent in English, French and Vanuatu's third national language, Bislama.
He decided to pursue an extended major in French and a minor in English after realising he wanted to teach both languages, having tutored and coached kids since leaving high school.
"The best thing about the BA program is the array of high quality French teachers, who have all had an impact on me," he said.