50th Anniversary of Japanese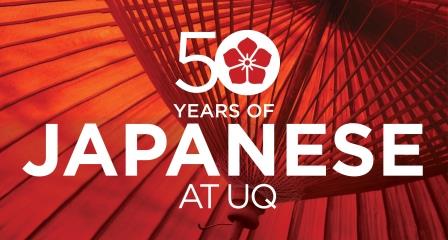 2016 marks a milestone in the calendar for the School of Languages and Cultures at the University of Queensland. 
It was 50 years ago that the Department of Japanese Studies (now the School of Languages and Cultures) was established in the Faculty of Arts (now Faculty of Humanities and Social Sciences).
Professor Joyce Ackroyd was appointed the foundation chair of the Department of Japanese Language and Literature. When it first opened, the Department was swamped with 120 students, but had only two teachers.
Among these first students was the future Head of School (2000 – 2005), Professor Nanette Gottlieb.
50 years on Japanese is as popular as ever and boasts one of the highest enrolments in a language at UQ, having over 1500 enrolments in 2015.
"This massive increase in enrolments is of course a sign of the times that we live in. The importance of language competence for graduates competing for positions in a global economy is greater than ever. Japan is Australia's second largest export market and fourth largest source of foreign investment, so the strategic importance of the Japanese language in our local context is undeniable. The Japan Australia Economic Partnership Agreement that came into effect in 2015 only deepens these links and makes it all the more imperative that we equip our graduates with the linguistic and cultural competencies that they learn through our Japanese program", said Associate Professor Greg Hainge. 
To celebrate this milestone the School will be hosting events and activities throughout 2016.
Please share your stories and photos with us by emailing them to and and using the hashtag #UQJapanese50
Follow us on Facebook for updates.
Online Photo Gallery
Take a step back in time with this gallery of images from 50 Years of Japanese at UQ.
Events
A series of events will be held in 2016 celebrating the Anniversary. If you would like to express your interest in attending our events by emailing us with your contact details and which event(s) you are interested in.
 
MAJIT Forums - Master of Arts in Japanese Interpreting and Translation Forums
Weekly on Fridays at 10:00am during semester
Room 1-E217, Forgan Smith building
Further details
 
Japanese Language and Careers Engagement Forum
Industry representatives and UQ alumni will share insights and experiences from their careers in Japanese business environments.
Wednesday 14 September, 3:30pm - 6:30pm
Further details
 
Public Lecture - Connected Histories: Japan and Australia, 1966–2016
4 October 
Professor Vera Mackie (University of Wollongong)
Further details
 
Celebration - 50 Years of Japanese
29 September
Join us for an evening to celebrate the rich history of Japanese teaching at the University of Queensland, and take this opportunity to connect and reconnect.
Further details
 
Conference - Japan in Australia
25-27 November
Japan's place within Australia and within the nation's social, cultural and historical landscape has been the subject of little academic discourse.
A variety of speakers from different disciplines, academics, researchers, students and educators from around Australia, Japan and New Zealand will explore Japan's impact in this country, how that can be understood and directions for the way forward.
Further details