Komstudy short term study program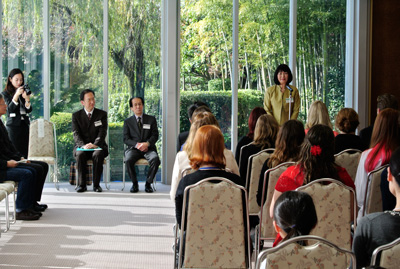 Komstudy is a short term study program hosted by Komazawa University in Tokyo.
This program offers students a unique opportunity to combine study and international travel, learning about Japanese language and culture.
Students participate in a Japanese language course and cultural studies for three weeks Nov-Dec each year (24 November - 18 December 2016).
Details are circulated in classes during semester. 
You can study at either of two course levels; beginner or intermediate.
The courses focus on Japanese language and cultural studies, covering all four macro-skills of listening, speaking, reading and writing.
You will have opportunities to interact with Japanese native speakers in Japan, including the homestay families and Komazawa University students.
There will be several trips within or near Tokyo to enhance the cultural experience.
KOMSTUDY is particularly good program for students enrolled in a Bachelor of Arts degree or a BA/parallel degree, as you are eligible for 2 academic credit points towards your BA after successful completion of the Komazawa Japanese course.
Students have enjoyed this course immensely over the past 27 years and nearly 500 students have participated so far.
This program has previously won the Vice-Chancellor's Internationalization award.
Financial assistance:
Komstudy is an activity recognised under the UQ Advantage Award 'Global and Cultural Engagement' category.
A bursary, the Brisbane Homestay Komazawa Bursary is also awarded each year.
For further information about Komstudy, you can see the Komstudy information page.
For general information on overseas experiences, including the application process and eligibility criteria, you can visit the short-term programs page or contact UQ Abroad.