Electro-magnetic reception in Gurindji people
26 August 2022

4:00pm

–

5:00pm
Abstract 
Like most First Nations languages, Gurindji expresses spatial relations according to cardinal directions, for example "put the flour north of the vegemite" or "there's a fly on your west shoulder". This attention to geocentric cues has cognitive effects that show that Gurindji people have an extraordinary mental map of the world anchored in the trajectory of the sun, but which is constantly in operation regardless of the time of day. One question is whether this unique attention to geocentric cues is reflected neurologically, i.e. whether Gurindji people have a hard-wired magneto-reception ability. Human neurophysiology has been shown to contain a geomagnetic sensory system (Wang et al 2019). Small rotations in the magnetic field triggered drops in the brain's EEG alpha-wave power. However, no participants were consciously aware of these magnetic field shifts. All participants tested spoke English, which uses a left/right system, with cardinal terms marginal in everyday speech. I will report on preliminary results from a recent project where we worked with 126 Gurindji people on a range of tasks. We found that some of the Gurindji participants did have a conscious perception of the earth's magnetic field.  
About the speaker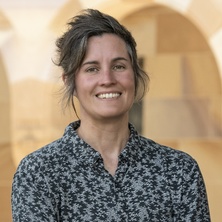 Felicity Meakins is a Professor of Linguistics at the University of Queensland and a CI in the ARC Centre of Excellence for the Dynamics of Language. She specialises in the documentation of First Nations languages in northern Australia and the effect of English on these languages. Meakins has worked as a community linguist and academic for over 20 years, facilitating language revitalisation programs, consulting on Native Title claims and conducting research into Indigenous languages. This work has provided the basis for four dictionaries, five books of translated texts, Case-Marking in Contact (Benjamins, 2011), two grammars, a field methods textbook and numerous papers on language contact. Meakins was also a winner of the 2021 Eureka Award for Interdisciplinary Scientific Research and the 2021 Kenneth L. Hale award for language documentation. 
About Linguistics Seminar Series
The Linguistics Seminars are an opportunity to hear from guest speakers, UQ staff and HDR students working on topics of interest in Linguistics, Language Revitalisation and Applied Linguistics. If you would like to present in our series, please contact Linguistics Cluster Co-ordinator, Samantha Disbray.
Seminars are generally held fortnightly during semester on Friday afternoons, and are free to attend. UQ staff and students, staff and students from other universities, and members of the general public are welcome to attend. If you would like to receive invitations to our Linguistics Seminar Series, please complete this form.
Venue
Gordon Greenwood (32) Room 309 or Via Zoom
Room:
https://uqz.zoom.us/j/82816381936