Technology Standards in Foreign Language Teacher Education in Asia Symposium
10 December 2021

12:00pm

–

2:00pm
This symposium has already occured, watch recording below or view here.
---
The School of Languages and Cultures at The University of Queensland and the Department of Research Management at Hanoi University are hosting an online symposium to explore the role of technology standards in the training and professional development of language teachers, with a specific focus on the context of Vietnam. The keynote speakers are Associate Professor Jeong-Bae Son from the University Southern Queensland and Associate Professor Paul Gruba from the University of Melbourne. PhD students with an interest in technology-mediated language learning are also invited to a Q&A session with the keynote speakers.
TIME

SESSION

12:00-12:20

Introduction

 "Technology Standards in Foreign Language Teacher Education in Asia" 
Dr Paul Moore, Dr Hong Giang Nguyen & Dr Quang Vinh Nguyen

12:20-12:45

Keynote 1
"Language teacher development in digital environments:

Technology standards and frameworks"
Associate Professor Jeong-Bae Son

12:50-13:15

Keynote 2
"Leading the integration of technology"
Associate Professor Paul Gruba

13:15-13:30

Questions and Closing

(Discussant Dr Paul Moore)

13:30-14:00

PhD Q&A Session with keynote speakers

(Discussant Dr Hong Giang Nguyen)
Keynote Speakers:
Paul Gruba is an associate professor in the School of Languages and Linguistics, University of Melbourne. After completing a degree in journalism, Paul gained qualifications in applied linguistics. He has taught and given keynote talks in several countries on topics in areas of blended language learning, language assessment, and language program evaluation.
Title: Leading the integration of technology
Abstract: Technology is now ubiquitous, and innovations are now daily. Our students expect our language programs to be infused with the latest thinking. But how can we foster the uptake and widespread use of technology across our entire language programs? The aim of this talk is to present pathways to the integration, or blending, of technology. Grounded in complexity thinking, I set out macro, meso, and micro levels of blended language programs and focus on leadership as a key point of success. The talk concludes with practical suggestions that can be tailored to local environments.
---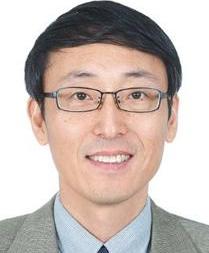 Jeong-Bae Son, Ph.D., teaches Applied Linguistics and TESOL courses and supervises doctoral students at the University of Southern Queensland, Australia. His research interests include computer-assisted language learning and language teacher development. Details of his research can be found on his website.
Title: Language Teacher Development in Digital Environments: Technology Standards and Frameworks
Abstract: This session explores technology standards and teacher development frameworks in digital environments where digital devices are used for learning and teaching activities. Technology standards provide guidance for technology use while professional development frameworks provide a set of competencies and activities that teachers need to have in learning and teaching. Both play an instrumental role in understanding and linking theory and practice. The session looks at several selected technology standards and frameworks and discusses interrelated components of a specific language teacher development framework.
---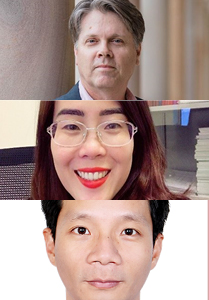 Symposium Organisers:
Paul Moore is a lecturer in, and Program Director of, the Applied Linguistics program at The University of Queensland's School of Languages and Cultures. His research interests include task-based interaction in classroom and online contexts, intercultural communication, and the dynamic roles of the L1 in L2 interaction.
Giang Hong Nguyen is a lecturer in the English Department, the Vice Director of the MTESOL (International) at Hanoi University, Vietnam. She obtained her PhD at the University of Canberra. Her research interests centre on CALL, blended language learning, curriculum development, and teacher professional development.
Vinh Nguyen is a senior lecturer of applied linguistics and Associate Dean of English Department, Hanoi University, Vietnam. He got his PhD from the University of Canberra. His current research interests focus on ICT/CALL, TEFL, blended language learning, learner autonomy, intercultural communication, and language teacher education.