Phylogenetic comparative methods: What all the fuss is about, and how to use them in everyday research
4 November 2021

5:00pm

–

7:00pm
Speakers: Jayden Macklin-Cordes & Erich Round
Jayden is a postdoctoral researcher in linguistics at the CNRS Dynamics of Language Lab, Lumière University Lyon 2. He recently completed his PhD at The University of Queensland as a member of the Ancient Language Lab. Jayden specialises in historical linguistics and typology, particularly using phylogenetic and quantitative methods.
Erich is British Academy Global Professor of linguistics at the Surrey Morphology Group, University of Surrey,
UK, and director of the Ancient Language Lab at the University of Queensland. His research focuses on linguistic evolution and typology, especially in the domains of morphology and phonology. Erich also specialises in the Tangkic languages of Queensland and the phonologies of Australian Indigenous languages.
Title: Phylogenetic comparative methods: What all the fuss is about, and how to use them in everyday research
Abstract: In this talk, we attempt two tasks. Firstly, we dispel some of the mystery around phylogenetic comparative methods and highlight their fundamental relationship to matters of enduring concern in linguistic typology. Secondly, we aim to show how linguists can carry out essential tasks using phylogenetic methods, easily.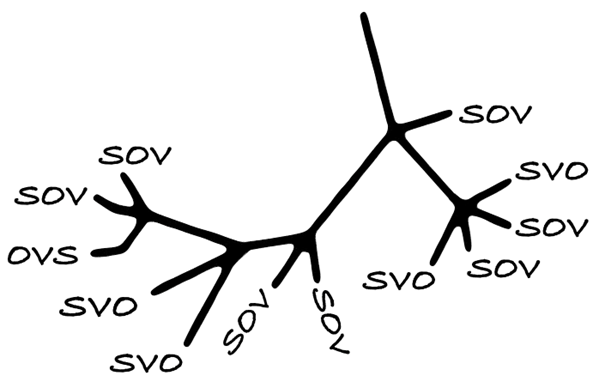 We begin by laying out the historical commonalities between typology and comparative biology, and the breakthrough insight that makes phylogenetic comparative methods distinct. This is followed by an overview of some fundamental phylogenetic concepts and tools. Finally, we illustrate these with a typological case study from the Pama-Nyungan languages. Our talk is accompanied by online interactive materials, demonstrating how phylogenetic comparative methods can be incorporated into everyday typological workflows.
About The Language Technology and Data Analysis Laboratory (LADAL) Webinars
The Language Technology and Data Analysis Laboratory (LADAL) is school-based support infrastructure for computational humanities research established and maintained by the UQ School of Languages and Cultures. The LADAL is part of the ARDC Australian Text Analytics Platform (ATAP) which represents a nation-wide attempt to foster computational skills in HASS. It collaborates with and shares expertise with several Australian and international centres, institutions, researchers, and experts.
The LADAL consists of a specialist computing lab for language-based computational and experimental work (the Computational and Experimental Workshop) and an online virtual lab (the LADAL website). The LADAL website offers self-guided study materials and hands-on tutorials on topics relating to digital tools, computational methods for data extraction and processing, data visualization, statistical analyses of language data, and provides links to further resources and short descriptions of digital tools relevant for digital HASS research. In addition, the LADAL offers face-to-face consultations and specialized workshops. SLC researchers are encouraged to contact LADAL staff for advice and guidance on matters relating to digital research tools, data visualization, various statistical procedures, and text analytics.  As such, the LADAL offers pathways to new research possibilities in HASS with a focus on computational quantitative text analytics.
Venue
Zoom ID Link: https://uqz.zoom.us/j/6388735320