Archaeology of Colonisation: From Aesthetics to Biopolitics - Book Launch
16 October 2020

10:00am

–

11:00am
Speaker: Dr Carlos Rivera Santana, Assistant Professor, Department of Modern Languages & Literatures at the College of William & Mary (Williamsburg, VA, USA)
Carlos is an assistant professor of Latin American/Caribbean cultural studies at the department of Modern Languages & Literatures at the College of William & Mary (Williamsburg, VA, USA), specializing in Indigenous studies, visual culture and decolonial theories. He critically examines histories of colonization and looks at their counter-discourses seen in Global South knowledges expressed in visual culture and literature, especially those produced from Indigenous ancestral worldviews. Rivera Santana was based in Australia for over seven years where he completed his PhD and was a lecturer at the Aboriginal and Torres Strait Islander Studies unit specializing in global indigenous and postcolonial studies at The University of Queensland, Australia. Before joining William & Mary, Dr. Rivera Santana was at Hunter College, City University of New York, where he was a research associate looking at decolonial Puerto Rican and LatinX contemporary art. He has published in peer-reviewed journals such as in Cultural Studies, Australian Journal of Indigenous Education, Qualitative Inquiry, Third Text, and others. In 2019 his first book was released, Archaeology of Colonisation: From Aesthetics to Biopolitics published by Rowman & Littlefield International.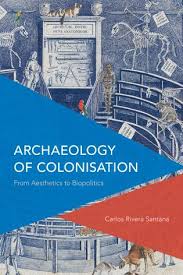 Book title and publication details:
Archaeology of Colonisation: From Aesthetics to Biopolitics
By Carlos Rivera Santana, PhD
Book Series: Critical Perspectives on Theory, Culture, and Politics
Rowman & Littlefield International, 2019.
This book rethinks the history of colonisation by focusing on the formation of the European aesthetic ideas of indigeneity and blackness in the Caribbean (and later in the Americas), and how these ideas were deployed as markers of biopolitical governance. Using Foucault's philosophical archaeology as method, this work argues that the European formation of indigeneity and blackness was based on aesthetically casting Aboriginal and African peoples in the Caribbean as monsters yet with a similar degree of Western civilisation and 'culture'. By focusing on the aesthetics of the first racial imageries that produced indigeneity and blackness this work takes a radical departure from the current Social Darwinian theorisations of race and racism. It reveals a new connection between the global origins of colonisation and local post-Enlightenment histories.
About Latin American Studies Seminar Series
The aim of the Latin American Studies Seminar series at UQ is to create a space for independent researchers, post-graduate students and academic staff conducting research on Latin America in the humanities and social sciences in order to share the outcomes of their research.
If you are interested in presenting in our series, please contact either Dr Roberto Esposto or Dr Sol Rojas-Lizana.
Seminars are held regularly and are free to attend. UQ staff and students, staff and students from other universities, and members of the general public are welcome to attend. If you would like to be included on our mailing list, please contact the SLC Events team via email.

We look forward to seeing you at our first seminar of the semester!
 
Venue
Zoom ID number 97750179290