Latin American Film Festival
The 10th Latin American Film Festival at the University of Queensland will be a free, public event showcasing a sample of the creative best of Latin American cinema.
The Latin American Film Festival is proudly hosted by the School of Languages and Cultures with the generous support of the Latin American Embassies in Canberra.
This is an 'Adults Only' event. All films are rated R18+.
Films are in Spanish or Portuguese with English subtitles.
Opening Night
This year, the festival will open on Wednesday 5 October with a screening of the film Malacrianza, followed by a small reception.
Official Opening: 6:30pm
Film Screening: 7:00pm - 8.10pm
Reception: 8:15pm - 9.30pm
Registration
As capacity is limited we ask that you register should you wish to attend opening night.

Location 
Abel Smith Lecture Theatre
Campbell Rd
The University of Queensland 
A campus map is available here. 
Film
Malacrianza (The Crow's Nest)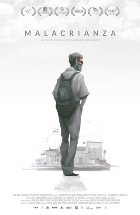 El Salvador
2014, R18+, 70 min, Drama
Malacrianza tells the story of a humble piñata's salesman in the city of San Salvador, Don Cleo, who receives a blackmail note for $500 USD. Don Cleo has to get the money in less than 72 hours. When he reflects on his situation and considers his lack of resources, he chooses to challenge the "blackmailers" that sent the note.
---
Thursday 6 October 
La película de Ana (ANA)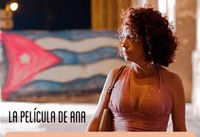 Cuba
2013, R18+, 157 min, Comedy
A professional actress without much luck try to limit their histrionic abilities and becomes, in exceptional circumstances, audiovisual director. As such it will dare to shoot a fake-fake documentary unusual about prostitution in Cuba, which includes among the protagonists. But thus his adventures - and complex consequences - have not begun.
Film Screening: 6:30pm - 9:10pm
---
Friday 7 October
Burros (Donkeys)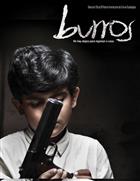 México
2011, R18+, 93 min, Drama
Burros (Donkeys) is the story of Lautaro, a ten year old kid who lives in the so called Tierra Caliente in south Mexico in the 40's. When his father is murdered, he is sent to live with an aunt in a town far away from his home. Lautaro makes a decision to runaway back home. During his long journey, he comes across many people, living and dead that help him get back home.
Film Screening: 6:00pm - 7:35pm
Del Amor y Otros Demonios (Of Love and Other Demons)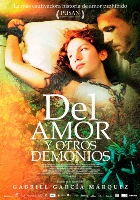 Colombia
2010, R18+, 97 min, Drama / romance
During a time of inquisition and slavery, Sierva María wants to know what kisses taste like. She is 13 years old, daughter of aristocrats but raised by their African slaves living in colonial Cartagena de Indias. When a rabid dog bites her, the bishop declares she is possessed and entrust Cayetano his pupil, with her exorcism. The priest and the girl Hill find themselves seduced by a demon more powerful than faith and reason. With an intimate, personal narrative and a visual lenguaje reminiscent of Renaissance paintings, Of love and other demons is based on one of Gabriel García Márquez`s (Nobel Literatura Prize 1982) most harrowing love stories.
Film Screening: 7:45pm- 9:30pm
---
Saturday 8 October
Mangoré, Por amor al arte (Mangoré)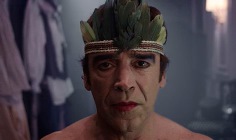 Paraguay
2015, R18+, 93 min, Biography
"Mangoré, por amor al arte", 2015, (Mangoré, for the love of art), is a Paraguayan film in co-production with Argentina, directed by Luís R. Vera, and shot in several Latin American countries. The film was inspired by the life of the influential Paraguayan classical guitarist and composer, Agustín Pío Barrios (1885- 1944), and creatively portrays 50 years of this important Guaraní artist, one of the greatest Paraguayan musicians of all times, better known by his pseudonym Mangoré (being the name of a Guaraní Indian chief of the sixteenth century), from the perspective of the Chilean scriptwriter and director, Luís R. Vera. Barrio´s adoption of Mangoré crystallized his concept of cultural identity. From 1930, Barrios, as Mangoré, revealed to his audiences and exotic and confronting image from Paraguay´s Colonial history, clothed in the mythology of his ancestors, in which he presented the guitar as the authentic instrument of Paraguayan music, and himself as his divine messenger.
Film Screening: 10:00am - 11:35am
Vacaciones en Familia (Family Holidays)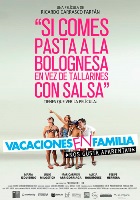 Chile
2015, R18+, 90 min, Comedy
The Kellys, are a family who likes to show off and pretend to be wealthy. With no money for vacations, they tell their friends they are going on a family trip to Brazil, while in reality they hide in their house for a month, just for everyone to believe they are truly enjoying summer abroad. 
Film Screening: 11:45am - 1:15pm
Que Horas Ela Volta? (The Second Mother)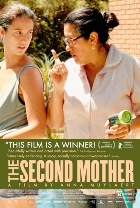 Brasil
2015, R18+, 112 min, Drama / Comedy
A fresh take on family relationships, The Second Mother centres around Val (Brazilian star Regina Casé), a hard-working live-in housekeeper in modern day São Paulo. Val is perfectly content to take care of every one of her wealthy employer's needs, from cooking and cleaning to taking care of their teenage son, who she has raised since he was a toddler. But when Val's estranged daughter Jessica shows up, the unspoken class barriers that exist within the home are thrown in disarray. Jessica is smart and ambitious, and refuses to accept the upstairs/downstairs dynamic, testing relationships and forcing everyone to reconsider what family really means.
Film Screening: 1:45pm - 3:40pm
Rabia (Rage)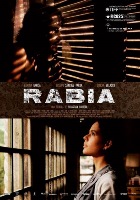 Ecuador
2009, R18+, 89 min, Romance Thriller
Based on a novel by Sergio Bizzio, Rage (Rabia) tells the suspenseful story of a pair of Latin American immigrants who fall in love. José María, a hot-headed builder, and Rosa, a housekeeper, embark on a passionate relationship. When a violent confrontation with José María's foreman results in the other man's death, José María flees to the mansion where Rosa works, telling no one. Hidden even from her, he watches the mistreatment she suffers as he yearns for the day they can be together. 
Film Screening: 3:50pm - 5:20pm
Dormir al Sol (Asleep in the sun)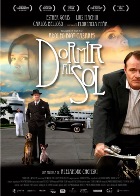 Argentina
2012, R18+, 84 min, Fantasy
A man commits his troubled wife to a mental hospital but notices some bizarre changes in her behaviour after her release. The film is based on the homonymous novel by the Argentine master Adolfo Bioy Casares.
Film Sreening: 5:30pm - 6:55pm
---
Sunday 9 October
Sigo Siendo (I am Still) 
Peru
2012, R18+, 110 min, Documentary / Musical
The cultural diversity of Peru is reflected in its great variety of musical genres like Huayno, Yaravi and Creole Waltz. The documentary of Javier Corcuera presents several Peruvian musicians, who tells their personal stories and their effort for keep alive their culture and their native language through the traditional songs of their people. This movie is a musical tour by the three regions of Peru: Coast, Highlands and Amazon Rainforest.
Film Screening: 10:00am - 11:50am
El Manzano Azul (The Blue Apple Tree)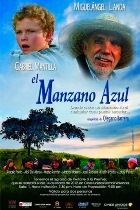 Venezuela
2012, R18+, 92 min, Family
An eleven year old boy, named Diego, is orced to spend a vacation in a small country house in the Venezuelan Andes with his grandfather, Francisco, who he hardly knows. In the midst of an environment he finds hostile, with no television, no mobile phone, no internet, no Ipod, no Play Station nor anything he is used to having, Diego has an experience that will stay with him for the rest of his life. The primarly characters in this experience are his grandfather and an apple tree that strangely enough decided to be blue and guards a secret under its roots.
Film Screening: 12:30pm - 2:05pm
Tanta Agua (So Much Water)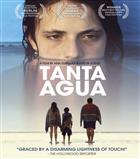 Uruguay
2013, R18+, 102 min, Comedy / Drama
Lucia is a 14 year old teenager and her parents are divorced. She and her brother live with her mother.  Alberto, Lucia's father, is a chiropractor and doesn't see his children frequently. He has rented a cabin at Arapey hot springs at Salto, Uruguay. The holidays are short and the cloudy skies menace with rain. When they arrive to the Hot Springs, the panorama is discouraging. Alberto tries to distract his kids to fix the fiasco that the family trip has become, but the more he tries, the more he fails.
Film Screening: 2:15pm - 4:00pm
La Bodega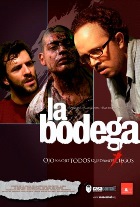 Guatemala
2009, R18+, 75 min, Drama
A young woman is brutally assaulted by gang members in the middle of Guatemala City. As usual, the authorities have no suspects or leads, leaving the girl to become one more victim in a society where thousands of women are assaulted every year. Jacobo, the victim's brother, along with Antonio, his best friend, decide in their frustration to extract some their kind of revenge. They kidnap a random gang member from the streets and drive him to an abandoned warehouse, where they torture and beat him.
But the consequences of their acts will soon become evident and they will have to make a decision that will affect their lives forever.
Film Screening: 4:10pm - 5:25pm